THE CANDYMAKERS!
By Wendy Mass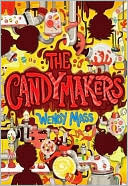 5 out of 5 stars
by Anna
Do you like candy?  Well, I'm guessing you probably do.  In that case you'll love this book!  The Candy Makers is about four kids who love to make candy. Daisy, Miles, Philip and Logan, those four kids, compete in the annual candy contest.  Of course they hope to win, but it isn't always that simple.
When you're reading this courageous book you won't believe what is happening.  You'll never guess at what secrets will come out of this book!  I liked a lot of things about this book. One thing I liked about this book is that you never know what will happen next! I also liked that it was written from each kid's different perspective! That was fun! If you like this book as much as I did, you will love other books by Wendy Mass. They are awesome too!
You should read this book because it's fun.  It will lighten up your whole summer! There were a lot of things that kept me hooked! One thing is that you have to read to the end to find out who won the candy contest! I really wanted read on and find out! This book does not have a sequel yet but I hope it will! This is an amazing, fun and delighting book to read!
HAVE FUN READING!!!