Hi, everyone! I know that we have just passed the holiday season (around a month!) and people aren't thinking about buying anything huge, but if you are thinking about buying an eReader, then you should be getting the right one for you. There are a lot of bad and inexpensive eReaders out there, and there are only some that will do the job well.
I have a Nook, first generation and it is great, and it gets the job well really well. If you are looking for an eReader, the thing is, eReaders are so new that the older ones aren't that different from the new ones. (The older ones are cheaper:) That widens the selection a lot, I think!
If you have a budget, which you probably do, I will list the top 2 most inexpensive, but good, eReaders out there.
#1, Kindle with Wi-Fi, 6″ Display – $79.00 from Amazon.com
This version of kindle, released in September 2011, weighs less than 6 ounces and fits in your back pocket. Because of the state of the art E Ink display, this Kindle reads just like paper, even in bright sunlight. This kindle is fast, very affordable and easy to take, wherever you go. I would recommend this kindle to anyone because of the month-lasting battery charge, weight, size and all the other handy features that may come in handy on an eReader. To see more about this kindle, click here.
#2, Barnes & Nobles' NOOK Simple Touch™ – $99.00 from Barnes & Nobles
The NOOK Simple Touch is the fastest, longest lasting battery, ad free, best touch screened eReader out there! Its battery will last for up to two months a charge and just like the kindle, it has the award winning E Ink display, except it's a touch screen!!!! This is by far the most simply interactive eReader on the market. It reads just like a book because you swipe to flip the page and it's the authentic black and white page color. It is as close as a real book as you can get! Wifi for buying books on your NOOK is included. To read more click here!
Now, if you have a larger budget and you want a really nice eReader, here is my preferance!
#1, The NOOK Color by Barnes & Nobles – $199.00
Super-clear resolution, movies, books, apps, music, super-fast web browsing, all you could wish for. This is everything you could wish for in an eReader, and more! NEW! Kid's books and graphic novels/comics are now availiable, making this a spectacular interactive tool for kids. Starting at $199.00 on B&N.com
***Note: All of the kindles offer text-to-speech, for the visually impaired. 🙂 ***
For more information about eReaders, go to these websites:
Thank You!
P.S. Most eReaders are easily customized with screensaver and wallpaper pictures!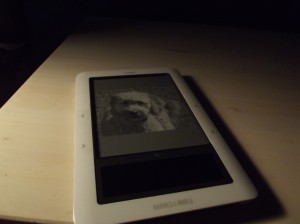 Some pictures of my NOOK in action!