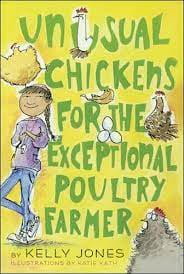 A few weeks ago I read this book's  companion Unusual Chickens for the Exceptional Poultry Farmer.  It was such fun, I quickly found the next book.  In it, Sophie continues her work with Unusual Chickens and begins to revitalize her recently inherited, Redwood Farm.  Hortensia  James, reaches out to Sophie through email to return two new
Unusual Chickens that Agnes had loaned her when she could no longer care for them.  She also sends Sophie her first clutch of eggs.  This means lots of learning about incubators and caring for the eggs as a mother hen would.  Thankfully she has friends to help her with this – Chris, Sam and Gregory.  They know about poultry and they know about Unusual Chickens.
In addition to those friend's, Sophie's cousin, Lupe, comes to stay with them when she begins college close by. Sophie is thrilled to have more of her family on the farm.  Unfortunately not everyone is as welcoming to people with brown skin.   As Sophie learns how to care for chicks and to discover all she can about each species of unusual chicken, middle school begins, Sophie holds a potluck work party to clean up Redwood Farm and she finds a way to help Lupe and Sam solve problems that come their way.
What kinds of Unusual Chickens will Sophie hatch?  How will she learn about them and care for them?  What will she do to make sure they are safe?  How will she bring Redwood Farm back to its past glory?  Will Sophie pass the inspection conducted by the Unusual Poultry Committee, Northern California Division?Will Mrs. Griegson help, or hurt the farm? What will happen next?  Read to find out – you'll be glad you did.
Happy Reading! 📚