Boots completes Kate Hannigan's The League of Secret Heroes trilogy. (Well, maybe?!.  As the books ends, there is room for more stories with these characters. I would be glad to read them.)   The series presents a blend of history, mystery and superpower action.  They are fun!  The graphic interludes sprinkled throughout are a nod to comic books, important to the era, and the stories.  Each book, Boots, Mask and Cape, celebrates the story of the girls who make the new super-hero group, The Infinity Trinity.  Through them readers learn about different aspects of society during the. World War II era.  One is an Irish immigrant, one is Japanese American and one is African American.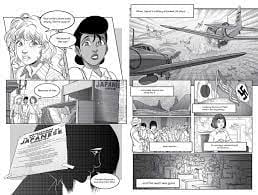 Throughout the series Josie, Akiko. And Mae, discover and grow their powers.  Drawn together by their love of comic book heroes, the girls soon realize something is wrong.  There are plots and spies in the. United States.  Through codes, ciphers and persistence, the girls realize they must do something to help their heroes survive and save their country.
Boots begins in Chicago where the girls discover a Nazi plot to disrupt airplane manufacturing.    Chicago is where Mae's grandmother and aunts live  Mae's aunts are pilots who deliver planes from the manufacturing plants to the air strips where they will be launched into service.  The plot becomes personal when the evil Metallic Falcon captures Aunt Willa and Aunt Janet in an attempt to keep the Infinity Trinity from achieving their ultimate goal of finding and freeing Zenobia and the other missing super heroes.
It will take all their courage and skill.  Can they complete their biggest mission yet?
Happy Reading!📚