The Unintentional Adventures of the Bland Sisters trilogy – The Jolly Regina, The Uncanny Express, The Flight of the Bluebird – is funny. Jaundice and Kale Bland live in Dullsville.  You can tell the twins apart if you look closely. 
Jaundice favors gray.  Her hair is parted in the middle.  She is left handed and sports a multi-pocketed smock she stitched herself from old curtains and couch upholstery.  Kale prefers brown.  Her hair is parted on the side.  She is right. Handed and is rarely without her backpack where she carries her handy reference book. – Dr. Snoote's Illustrated Dictionary for Children, Tillie's Tips or Taking Off with Trip Winger.
Aside from those differences, the Bland sisters are just about the same as you can see from this passage on page 3 from The Jolly Regina. 
"Jaundice and Kale pride. Themselves on their exacting routine.After breakfast (plain oatmeal with skim milk and a cup of weak, tepid tea on the side) they tend to their. Business of darning other people's socks, with tased the better part of the day.Each allows herself one ten-minute break, during which she eats a cheese. Sandwich on day-old bread and drinks a glass of flat soda while gazing out the window, watching the grass grow.…It should be mentioned the Jaundice and Kale have parents.Several years ago, they left quite suddenly to run an errand of an unspecified nature, The Bland Sisters don't tend to dwell on it. Too much, as they are sure their parents will return any day now."
While Jaundice and Kale avoid excitement and surprise in every way possible, it seems that adventure and intrigue seek them out.  First, they are kidnapped by an all-female band of pirates  from the Jolly Regina ~ but when they finally arrive at Gilly Gunns Island, their once marooned parents are no longer there.  Second, rather than meeting their Aunt Shallot at the train station and bringing her home as planned, they are whisked away to become assistants of Magique and later to Detective Hugo Fromage as they attempt to solve the magician mysterious disappearance from the express train to Uncanny Valley.  And finally, they are spirited away almost immediately by Beatrix Airedale, pilot of the Bluebird, who has been sent by the Bland's parents in the hope that Kale and Jaundice will finally rescue them from their pursuer and bring them home.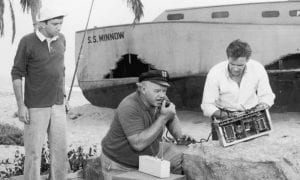 The series is made more fun by the ironic details and puns inserted throughout.  I snickered at the pirate named Captain Ann Tennille.  It took me until the 3rd book to catch onto the connection of getting lost and Gilly Gunns Island – Good Lord! 😁. Other names like Port Innastorm, Countess Ima Goudenoff (maiden name Nutt), Vera Dreary and the villain team, Victor and Uggo made me smile right away.  There are references to classic books, movies, and historical figures throughout to increase the fun, but I wondered if student readers would notice them.  Maybe- maybe not.  To increase the odds, these books would be great choices for a parent/child book or multi-age book club with a challenge to collect funny details from each reading.  
This trilogy is great fun!   It's okay to be bland, but finding time of new things and a bit of adventure is okay too.
Happy Reading! 📚 These books are best enjoyed with with day old cheese sandwiches or stale hardtack washed down with tepid tea or flat ginger ale. 
PS – Here are some other books by Kara LaReau you might enjoy –