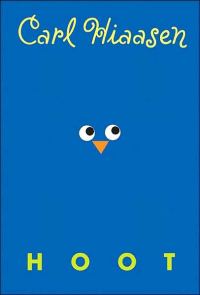 292 Pages
Roy Eberhardt is a new Floridian boy who starts noticing a strange kid running down the streets barefoot as fast as a lightning bolt. While Roy starts to get curious about the mysterious kid, the future site of Mother Paula's All-American Pancake House is being vandalized and pranked on. For example, one day a worker is scared out of his wits by the large alligator in the Port-a-Potty. Who is doing these dirty deeds and why are they doing it. At first the authorities think that it is just a couple of teenagers who thought it was funny to put an alligator in a Port-a-Potty, but then when the vandalism persists, people start to try to find the person who is responsible for the crimes and vandalization.  But is the mysterious sprinting boy and the vandalism connected? Read Hoot by Carl Hiaasen to find out.
Hiaasen incorporates some really great characters, humor and other characteristics that make for a fantastic book!!
Click here for Carl Hiaasen's website.
Here is the Hoot part of Carl Hiaasen's website: www.carlhiaasen/hoot.com