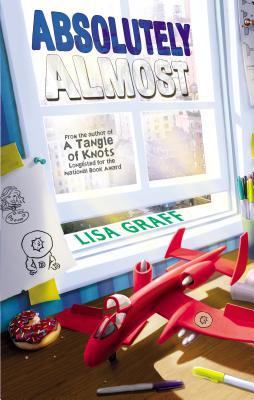 by Lisa Graff
for intermediate  and middle grade readers, for teachers everywhere – there's no one who shouldn't read this book
If there is one thing I learned this year, it is that kindness is a super power and that true kindness, is exceptional.  To me true kindness means acting compassionately for the betterment of others with no thought of yourself because it is just the right thing to do.   In my world, generous hearts and selfless souls are precious and rare.
Albie struggles in school.  He can't read as well as everyone else, but he does okay.  He can't spell as well as everyone else, but he works super hard.  Math…just totally does not make sense.  Because of this, Albie is asked to leave his private school that upsets and concerns his parents greatly.  He's not sure of the exact reason why he has to leave, but he's pretty certain it is because he is almost at everything.   No matter what he does at school or with friends, it's never quite good enough.
Albie doesn't have many friends.  His one true friend is just down the hall.  The cool thing is that from Albie's apartment 8A, he can flash his light to say goodnight to Erlan when he's in his bedroom in 8F.  Now that Albie doesn't go to the same school as Erlan he doesn't get to see him everyday.  And also Erlan's family is starring in a new reality TV show.  Erlan is one from a set of triplets who have older sisters who are also triplets too.  Their time together at home now is pretty limited too.  The cameras are always everywhere.
In and around all these changes enters Calista, Albie's new nanny, babysitter or someone to hang out with – whatever you want to call her.  Where Albie's parent worry and want him to be like other 5th graders, she just watches him and helps Albie become more.  When Albie's parents are too busy with worry and work, Calista has time to notice and see.  She sees who Albie is and how hard he tries.  She cautions him when he tries to follow the rules to become cool.  She cares and is always there helping Albie to navigate 5th grade, friends and parents – almost.
Everyone should read Absolutely Almost to discover all the places where kindness resides.  It can be in red gummie bears, math camp jokes, newly labeled book covers and coffee cup towers.   Absolutely Almost helps us see how that is so. Absolutely Almost is a must read book – not just once, but over and over.  Kindness is a super power – rare and precious.  I think this book could help us change that.  Read it and lets us know what you think.