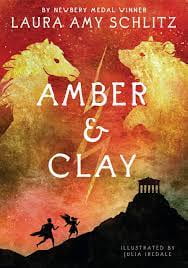 Another magically crafted book from Laura Amy Schlitz, Amber and Clay takes us to Ancient Greece.  Several characters take turns narrating the chapters.  Some speak in poetry.  Some speak in prose.  Through each narrator's unique voice readers gain a rich understanding of the social structures that define daily life across the classes.  At the center of the story are Rhaskos, an enslaved boy ~ as common as clay, and Melisto, daughter of a wealthy Atheneum citizen ~ as precious as amber.  Their story begins to take shape around their fifth year.
After his mother was sold, Rhaskos collects dung in his enslaver's yard.  He is befriended by the younger son of his owner and inadvertently sees the mural of a horse in the men's room of the house.  From then on he dreams of drawing horses.  Later after the death of this friend, Rhaskos becomes the personal servant of the older son.  Here he meets with near daily physical and emotional abuse.  It is incredibly cruel, but as a slave, what rights does he have?  Eventually he is sold to a potter and there he is able to learn the trade and further develop his artistic abilities.  It is better ~ but he is not free.
Melisto has been born into a family of means.  She beloved by her father, but finds it difficult to meet her mother's expectations and to accept the confines given her because she is a girl. Melisto and her mother grate on one another. Thratta, Rhaskos mother, is purchased to step between them.  She helps Melisto fulfill her role as daughter and female in society, while also honoring her curious and active nature  Miraculously Melisto is selected to serve Artemis at her sanctuary in Brauron.  Melisto finds her home there. She is at peace there – free to be herself and live a life that honors the goddess.  It is better ~ but sacrifices are required.
After Melisto is killed in a lightning accident her body is returned to Athens for burial.  Thratta prepares the body when Melisto's mother will not and that when the two children connection becomes apparent.  Thratta binds Melisto's soul to the earth until she is able to find a way to lead Rhaskos to freedom.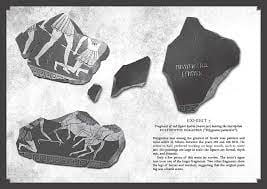 Through their stories, readers discover more about life in these times.   They present is a clear picture of the ever-present slavery and warfare of the time.   Art, dance and ceremony are also shared.  Sokrates (the Greek spelling) befriends Rhaskos at one point in the story, and before his death, encourages him to be "his own master."  Hermes and Hephaistos narrate some of the chapters adding a godly twist.  The writing is expressively descriptive, surprisingly contemporary, and laced with references to mythology and the epic stories.  The narrative creates a world for readers to live in where they can uncover the past, and at the same time come to a greater understanding of their own present.
What an amazing book!
Happy Reading!📚