Samira new home is in a one-room bamboo hut with a leaky blue tarp for a roof.  Everything her family owns is there: a cricket bat, a silver pot, a notebook, and a blanket.  They have chickens, bought with the money Mama got from selling her precious gold necklace. And while her father is shrimping, and her mother tends the house and her brother cleans tables and dishes at the cafe, Samira takes her bucket of hard boiled eggs to the beach.  Samira is the best egg seller there.
"A bucket of eggs
turns into bundles of taka
turns into pinches of salt
turns into mouthfuls of joy."
Life here in Bangladesh was supposed to be easier, better, safer, than their life in Burma, but it doesn't seem to be ~ yet.  Samira Surfs by Rukhsanna Guidroz tells Samira's story: a girl, a Muslim, an undocumented refugee, a Rohingya.  It is an important story to notice, note and understand. 
Written in tightly woven verse, readers learn about different aspects of Samira's new life – why she fears the water, how her family decided leaving Burma was the best choice, why "only boys can change a family's fate" and how full of fear living a refugee is.
11-year old Samira is determined to show her worth to her family.  With the help of her brother, she learns to read and write English.  At the beach she begins to make friends with other Rohingya refugees and Bangladeshi girls her age. Through her brother's support and her new friendships, Samira learns about surfing and Cox's Bazar surfing competition.  The contest specifically invites girls and comes with a 10,000 taka prize.  Samira knows this money would be of great help to her family.
"Why not?
I could learn to surf
Before the contest in six months.
My mind races with the daring
and dreaming
of what could be."
Samira is a kind, determined, dedicated daughter and friend.  She finds her way in  this new place and she finds her way into readers hearts and minds as she shows girls can also change a family's fate.
The authors note shared further information about the Rohingya, the refugee camp in Bangladesh and the Boys and Girls Surf Club at Cox's Beach. 🏄‍♂️🏄🏻‍♀️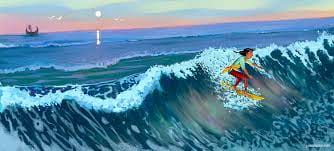 I really liked this book.   It tells a story I know very little about through characters that I came to really care about.  This book gave me a lot to think about.
Happy Reading! 📚