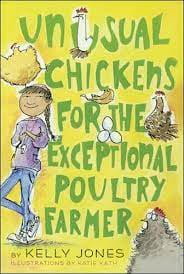 Sophie's summer vacation has just begun.  She's moved from LA to  the very small town of Gravenstein, California. She's living on the farm her dad inherited from his Uncle Jim.  There's nothing but dust and junk and grapevines with no grapes.  It's lonely, but Sophie is determined to make the best of things.  She will, if she can figure out what to do.  Tacked on the wall inside the barn, Sophie finds a flier advertising "unusual chickens" along with an address to inquire about a catalogue.  Sophie thinks a farm with chickens could be more interesting than what she is living with now.  She asks about getting the catalogue.  Her mom agrees it can't hurt, and suggests she write a business letter to Redwood Farm requesting one.  Sophie gives her letter to Gregory, the mailman, who says he'll deliver it the next day.
While she waits, Sophie decides to organize some of stuff Great Uncle Jim has collected all over the farm.  She discovers a typewriter in the hayloft and makes a space for herself there.  It is peaceful.  Typing reminds her of her Abuelita, and Sophie begins to write to her, sort of like a diary.  She knows her grandmother won't answer, but it eases her loneliness to connect with someone. she knows loves her.  
Sophie continues to explore the farm looking for things to do.  She finds a little tipped over house and wonders what it's for.    She soon discovers it's likely for an angry little white chicken who appears from the blackberry bushes the next day.  Sophie decides to care for it while she figures out what to do.  Now she really needs to hear from Redwood Farm Supply because she has a chicken that is indeed "unusual."  Henrietta (named after the chicken in The Hoboken Chicken Emergency) has telekinetic powers.   
After Sophie discovers this chicken has powers, several things happen at once.  Sophie receives a response from Agnes, the owner of Redwood Farm Supplies, telling her that Henrietta is one of Great Uncle Jim's chickens and admonishes her to keep the chicken a secret in order to keep her safe.  Someone named Sue Griegson (who's about the same age as Sophie's parents) claims to be missing chickens and tries to steal Henrietta.  More of  Great Uncle Jim unusual chickens come home to roost with Henrietta.
Using information she learns from library books and the librarian, from talking to Gregory, the mailman, from the i chicken-care correspondence course sent to her by Agnes, and help she receives from other poultry loving kids in town, Sophie knows she has a lot of work to do to keep her flock happy, healthy and safe.   She is determined to do what is right, even when it is challenging and makes her reach outside her comfort zone.
Read Unusual Chickens for the Exceptional Poultry Farmer by Kelly Jones with illustrations by Katie Kath. I'm sure you'll enjoy it – and hope for more.  It is fun.  The writing is great.  The format is unique.  The illustrations are funny.  It's a lighthearted story that will make you smile and think at the same time.
Happy Reading!📚
PS – If anyone reads this who knows Vera M please tell her about this book.  She'll definitely appreciate the chickens!