If you're already a Ranger's Apprentice fan, you're sure to enjoy The Royal Ranger collection too.  I just finished reading The Escape from Falaise, the second part of Will and Maddie's daring rescue.  They've traveled to Gallica to free a kidnapped prince.  This is not a typical mission for Rangers, but they have taken it on to make things safer for King Duncan, ascending Princess Cassandra and all of Araluen.
The story is full of the trademark Ranger wit, skill and daring.  "Facing dangerous threats, battles with knights, and a new and risky plot to save the
prince – the odds are stacked against them.  But the Rangers will use all the tools of their trade to save themselves and save the day."
I appreciate how "right" in all its forms – kindness, humility, perseverance, patience and acceptance – triumphs each time.
If you're new to The Rangers, the elite Corp of Araluen, this is a series better read in order.  Begin with The Ruins of Gorlan, then move on to The Burning Bridge both reviewed my Matt in 2012, and then just keep reading.  You've got some great adventures ahead of you!
Happy Reading! 📚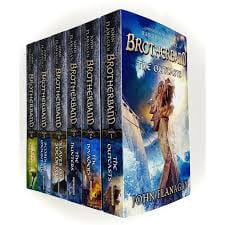 PS – The Brotherband Chronicles are great too!